[ Home ] [ History ] [ Mill tour ] [ Videos ] [ Products ] [ Orders ] [ Other Interests ] [ Links ]
At Freeman's Mill, we use only the highest quality White and Yellow Corn and Wheat that we can find. Our Grits and Corn Meal are ground on our 100+ year old granite mills. One of the mills is a 42" Cole flat rock mill and the other is a 24" Davis vertical mill; both mills were built in Georgia. Our Flour is milled on a 100 year old Midget Marvel 50 Barrel Mill. Our mill is powered by a Continental 1 Cylinder Cotton Gin Engine that dates to the 1930's and weighs in excess of 10 tons.
Our mill is located in Bulloch County, Georgia between Statesboro and Register. Visitors are welcome, but call ahead!
The highest quality of our product is of chief concern to us. Our mill and products are licensed and regularly inspected by the Georgia Department of Agriculture.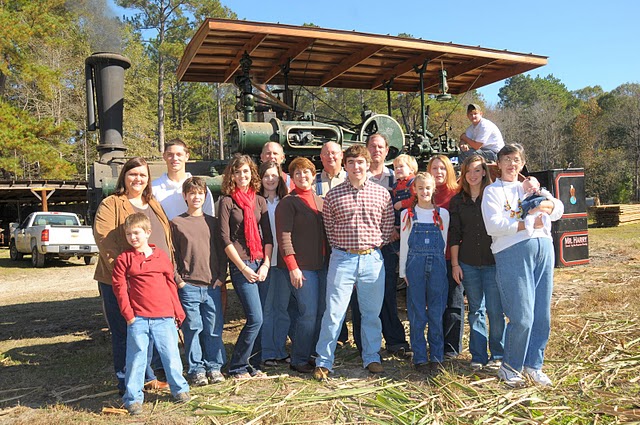 The Freeman Family taken at our 31st annual Syrup Boiling, Thanksgiving 2009
Welcome to our Website! We hope ya'll enjoy your visit!
The Freeman Family
[ Home ] [ History ] [ Mill tour ] [ Videos ] [ Products ] [ Orders ] [ Other Interests ] [ Links ]
©2011 Freeman's Mill. All Rights Reserved.
Freeman's Mill, 518 Country Club Road, Statesboro, Ga. 30458, Phone: 912-852-9381
Original Site Design by Stacey Freeman
Update & Maintenance provided by CRLDesigns.net
06/13/11